Alluxa announces HELIX Spectral Analysis System, a new industry-leading optical spectrophotometric capability
bri6k_admin
Dear Friends, Colleagues and Customers of Alluxa,
Over the past few years, our SIRRUS™ Plasma Deposition Process has routinely created optical bandpass, edge, dichroic, and notch filters that have outstripped the measurement capabilities of even the highest-performance spectrophotometers and grating based measurement solutions. With that in mind, we embarked on the development of a new industry-leading spectrophotometric measurement system, and I'm pleased to announce that we achieved our goal.
With our new HELIX Spectral Analysis System, we are now able to resolve bandwidths of less than 0.1 nm and obtain precise and accurate measurements of our steepest edges traced to beyond OD7. With a name inspired by the eye-shaped nebula, the HELIX System "sees" the true spectral shapes of our optical filters, allowing us to push the limits of spectral performance and provide further proof of our filter's performance capabilities. In 2017, we are planning to add a custom calibration technique that will allow NIST traceable wavelength accuracy of < 0.04 nm.
Below you can see a high-performance, flat-top, ultra-narrow bandpass with industry-leading bandwidth of less than 0.4 nm. This filter was measured with best practice methods using both a Cary 5000 spectrophotometer and our new HELIX System. HELIX tracks the filter performance nearly identically to theory all the way to 7 OD (70dB), while still resolving the slope of >20 OD / nm (200 dB / nm).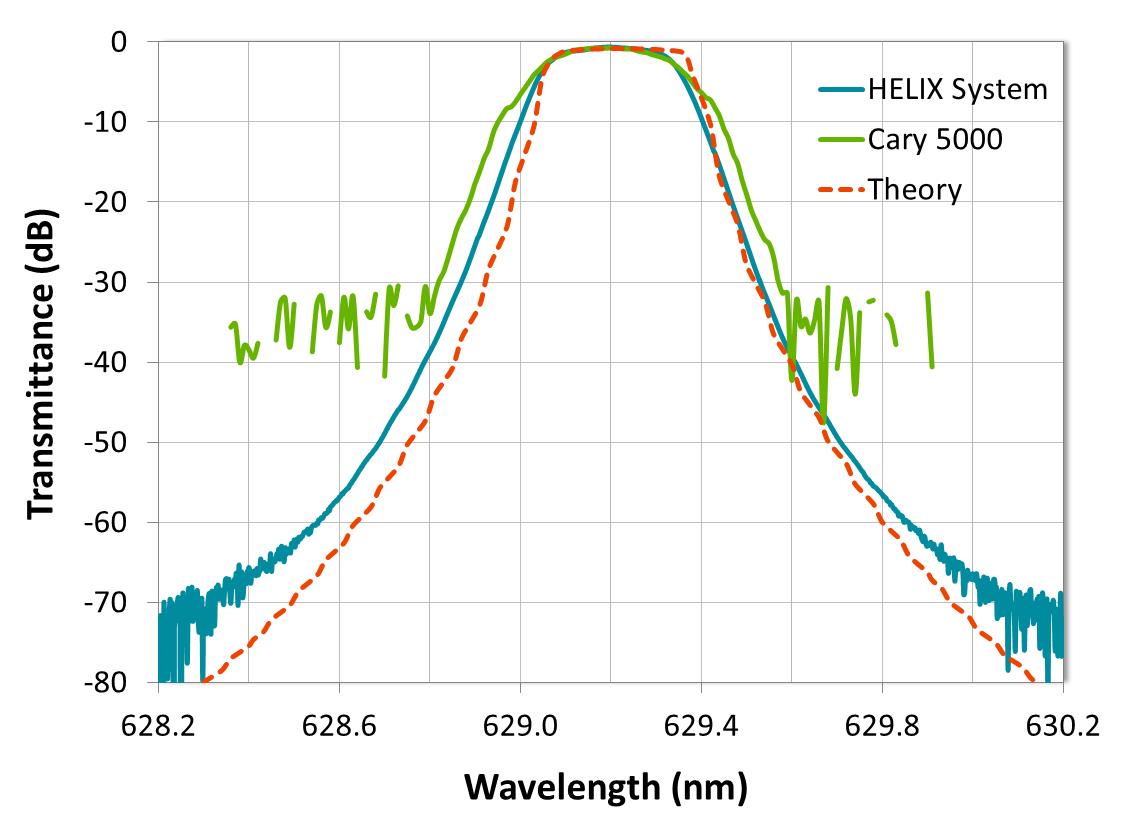 HELIX Spectral Analysis System accurately measures a high-performance ultra-narrow bandpass filter to OD7
In other news, our 2016 Pinot Noir is successfully in barrel, and our 2015 will be bottled soon and available at our Photonics West party. Also, for those of you with a Tesla or other electric vehicle, we will soon be installing a charging station in the front parking lot. For now, please let us know if you would like to charge your electric vehicle during your visit, and we will tell you the best place to park.
As always, check our catalog, website, and on LinkedIn to see all of our latest offerings, news and developments.
Mike