Alluxa at Photonics West, Chance to Win a Free Coating Run
bri6k_admin
Dear Friends, Colleagues and Customers of Alluxa,
Our second annual drawing to win a free lot of custom optical filters is again happening this year at Phonics West at our wine and beer party. Like last year we are raffling off an entire lot of custom optical filters of any type, be it a short pass, long pass, dichroic, multi-chroic, band pass, ultra-narrow, excitation or emission, or a mirror. Just pick something and we will make it. For those who don't win, you can console yourself by enjoying some amazing wine from Sonoma County and beers from our local micro-breweries.
The winner last year selected an Ultra series narrowband 532nm filter, with a flat multi-cavity top and bandwidth of 1nm. An image of the final filter shown below.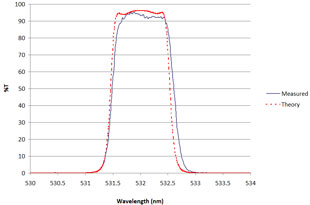 Our team is in the mood to celebrate as our 2014 marked yet another year of growth for Alluxa. Our Q4 not only set a new revenue record, making it our 8th consecutive quarterly record, it also achieved a new on-time delivery record at 98.9%.
So please stop by our booth #5042 and enter the contest, and see what's new with Alluxa, or just say hello.
See you all there!
Mike Scobey