Alluxa delivers 10th consecutive record quarter with on time deliveries exceeding 99%
bri6k_admin
Dear Friends, Colleagues and Customers of Alluxa,
The second quarter is complete, and it's a pleasure to announce that our team achieved a record on-time delivery rate of greater than 99% (99.4% to be exact), and managed to again ship a new record in revenue, marking our 10th consecutive quarterly revenue record.
Another highlight of the quarter was the Laser World of Photonics show in Munich in June. The show felt larger and busier this year, and the industry continues to amaze with innovations and developments. Lasers, of course, were ubiquitous, and robotics of various types also seemed a key theme. Ultra-fast pulsed lasers showed numerous innovations, and seem to find ever more applications. Thin film optics are a key component in ultra-fast lasers, so look for a paper relating to femtosecond phase control with thin film optics in coming months. For those who missed us at the show, you can find some insightful comments by Peter Egerton, Alluxa's EVP of Business Development, as seen on Light Matters by Photonics Media at the following link.
In further news on the expansion of the company facilities, we have added a satellite facility for engineering and technology development in Roseville, California. It will be staffed primarily in support of equipment engineering, robotics and automation support. At full staffing the facility will be able to build complete coating chambers for transfer to our Santa Rosa headquarters. Our previously announced expansion in Santa Rosa remains on track to complete in the third quarter of 2015.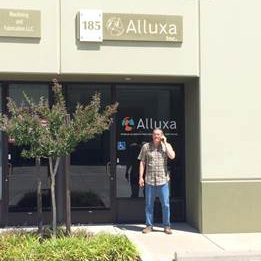 I can't post a note without a filter plot, so below is a triple band designed to have in-band performance of >93% and blocking of OD6 out of band.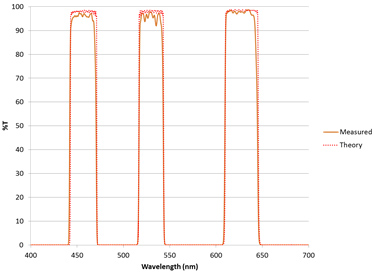 The chart shows theory and measured results. Multi-bandpass filters, multi-notch filters, and multi-band dichroics continue to progress in performance. We of course would love to hear about any new requirements in this area.
Mike