Alluxa to be acquired by Enpro Industries
bri6k_admin
Hello everyone.
I'm delighted to announce that Alluxa has entered into an agreement to join the Enpro family of businesses. EnPro, with its extensive capital, commercial, and other resources, is the perfect partner for us as we look to materially accelerate the growth of our company in the coming years.
You can learn more of our deal in the press release from EnPro here and on Optics.org here.

After the acquisition closes, Alluxa will remain an independent company with no changes to our management team, and with an even more aggressive growth plan. Alluxa will continue our history of strong investment in capital equipment to continue to support rapid turn requests, best-in-class designs, and the highest quality output possible for our customers. We will be increasing our investments in advanced, forward looking technologies and product development to support customers and their increasingly challenging performance requests and expedite our plans to grow into new markets, in particular the far IR and defense markets. Most importantly, we will continue hiring the best and brightest in both technical and sales and marketing positions. View available positions here.
More details to come on the merger as they become available.
On the new development front, our new Blackjack platform continues to impress in its sea trials/pilot production runs and recently built a best in class OD5 notch filter at 10.6 microns, with excellent transmission from 3 microns to 14 microns. The spectral plot of the notch is shown below.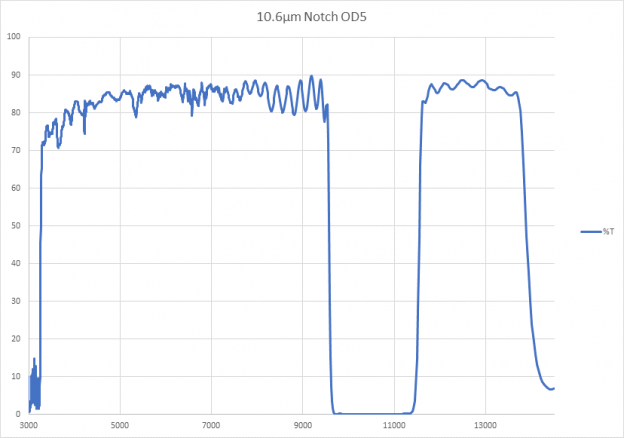 Stay safe everyone,
Mike