Announcing our new optical substrate fabrication capability
bri6k_admin
Greetings Friends, Colleagues and Customers of Alluxa,
I'm very pleased to announce our new optical substrate fabrication capability. Our new optical shop is aimed at rapid turn prototyping and will be capable of producing highly parallel substrates to support our filter business as well as wedging, edging, beveling, etc. The goal of the shop is to enable shorter lead times, reduce costs, and to better understand the dynamics of the coating/substrate interface.

The optical shop takes up approximately 2,000 ft2 of our facility and it contains:
10 Spindles
Large Blanchard grinder
Multiple edgers
Several small double-sided grinders and polishers
Two Speedfam 16B double side grinder/polishers
Our large area filter at Photonics West continues to generate a buzz. For those who missed it, we showed a demo of a new large format optical coating capability with a fully blocked, 30" diameter bandpass filter, shown in the picture below. Uniformity of this > 100 layer coating is approximately 1% across the surface of the filter.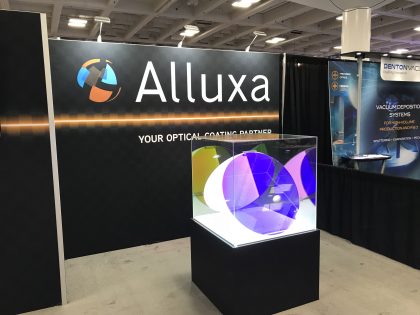 On a final note, I want to thank again the well-wishers and supporters who are helping those suffering from the devastating fires our community experienced last October. Our customers and employees were wonderfully generous and, together with the company, raised over $15,000 in donations for people who lost their homes and did not have adequate insurance.
As always, please feel free to reach out anytime.
Mike