Introducing Two New Members of Our Business Development Team
bri6k_admin
Dear Friends, Colleagues and Customers of Alluxa,
I would like to introduce two new members of our Business Development team; Ruth Gorham Houle and Amber Czajowski. Ruth joins us as our Director of Sales and Marketing and has over 20 years of experience working directly with optical filters. She is known and respected by many in our industry from her years in the field and we are delighted to have her join our team. Ruth has already taken the lead putting together several trade shows this year giving Alluxa added exposure to new markets and opportunities and she will continue to do so in the future.
Amber joins us as a Product Line Manager focusing on precision optical coatings, with particular emphasis on our rapidly growing Ultra-Series family of filters. She has earned a Masters in Optical Engineering from the University of Arizona and brings fresh talent to our team. Amber hit the ground running and immediately took on writing an interesting new white paper "Ultra-Narrowband optical bandpass filters with large format and improved temperature stability". This paper includes data showing the intrinsic stability of hard coated narrowband filters as shown in Figure 1 below.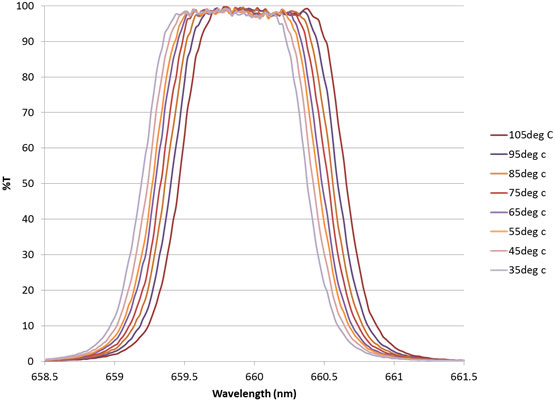 Figure 1.Measured cwl of a 1nm flat-top ultra-narrow filter at temperatures to 105C.
I was honored to learn that authors S. L. Allen, W. H. Meyer, G. D. Porter, and J. Howard of LLNL published a report, "Carbon ion flow measurements in DIII-D divertors by coherence imaging" showing a doubling of transmission with Alluxa filters as compared to industry standards, enabling new levels of signal sensitivity. At Alluxa we continue to strive to build and develop both our products and our team. It's always nice to hear that Alluxa filters are helping our customers and making a difference in the industry
I always enjoy hearing from you. If you have any questions or comments please send me an email at CEO_Notes@Alluxa.com or schedule a meeting with us during one of the upcoming industry shows. Our home page indicates the next show we plan on attending.
Mike Scobey