New record quarter, LIDAR paper, and new IR filter capability
bri6k_admin
Dear Friends, Colleagues and Customers of Alluxa,
I'm pleased to announce that Alluxa achieved another record-breaking revenue in Q1 2017. This is our fourth record quarter in a row, with 16 of our past 17 quarters also breaking revenue records. Once again, on-time delivery was over 99%.

Check out our newest white paper, Thin-Film Interference Filters for LIDAR, which became our most downloaded paper less than a week after it was published. This paper outlines the spectral requirements for filters integrated into a wide variety of LIDAR sensors.
I'm also pleased to announce that our ULTRA Series optical filters were installed in the Kinetic River Potomac Modular Flow Cytometer at the National Cancer Institute in Bethesda, Maryland. More information is available in our press release.
In June, look for another new white paper detailing the measurement capabilities of our HELIX Spectral Analysis System. The HELIX System is able to measure wide-range blocking beyond OD8 (-80 dB) and trace steep edges past OD7 (-70 dB) as illustrated below.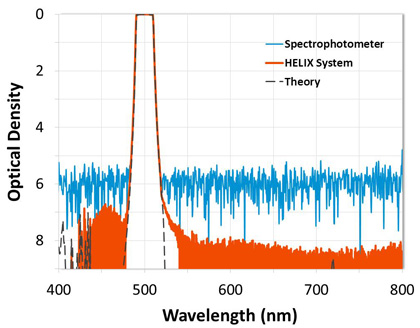 We are continually investing R&D efforts into improving our IR capability. In Q1, we manufactured an IR bandpass filter with high transmission from 7.75 μm to 10.75 μm as shown below. Our capability in this area is rapidly evolving and we plan to offer improved narrowband filters, multiband filters, and other advanced IR coatings as the year progresses.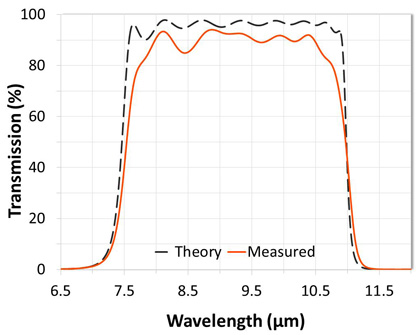 Finally, come see us at Laser World of Photonics from June 26th through the 29th in Munich. Our representatives will be located at the Laser Components booth and we will have filter samples on display at the AHF booth.
Mike