New Ultra Line of Fluorescence Optical Bandpass Filters
bri6k_admin
Dear Friends, Colleagues and Customers of Alluxa,
I'm pleased to offer a sneak preview of our new Ultra line of fluorescence optical bandpass filters. These filters offer significant improvements in performance as compared to prior industry standards in a number of features including center wavelength control, in-band transmission, and out of band blocking. I'm confident that they will enable new levels of system performance at little or no increase in cost. As with the rest of our filters, our Ultra's are deposited with our Advanced Plasma Deposition (APD) process using hard refractory oxide films that are environmentally stable.
For example, our Ultra fluorescence bandpass filters control wavelength with two to three times the precision of prior standards and we routinely control wavelength to less than 1.5nm or even less than 1nm when required, as compared to typical values of 3nm used by the industry. We can also offer in-band transmission up to 95% as compared to typical transmission values of 90% for the industry. Blocking levels of 6 OD to 10 OD for extended ranges are also available. A few recently deposited Ultra spectral plots are shown below.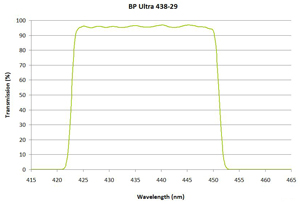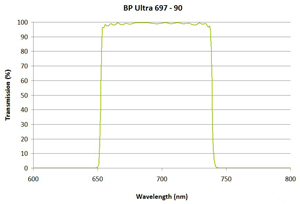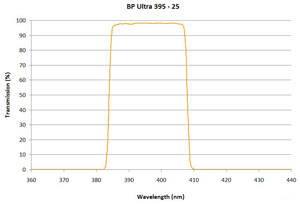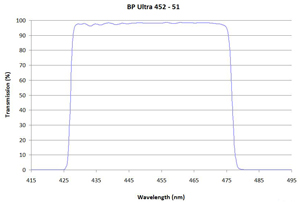 Our previously announced Ultra-Narrow Band Filters continue to improve as well. These filters offer bandwidths now even narrower than 1nm and T in excess of 90%.
Look for a more formal product announcement in the coming weeks with more detail, and tips on specifying for optimum performance.
Happy holidays,
Mike