A record Q4 and a record 2018, watch for a new ultra-narrow capability announcement at Photonics West, and register to win a free coating run
bri6k_admin
Greetings Friends, Colleagues and Customers of Alluxa,
I'm pleased to announce another record quarter in Q4 of 2018, as well as a record 2018. It was a busy year, having shipped over a quarter million filters in 2018 with an average on-time delivery rate of 99%. We fully expect further growth in 2019 and hope to improve our on-time delivery with the addition of four new chambers scheduled for install. This will bring our active total to 19 copy-exact SIRRUS™ Plasma Deposition chambers.

The web site has gained content with over 60 new coatings added in the past 6 months. We now have almost 500 different parts in our online catalog. We also recently added profiles of the management and sales team, and soon a video of the factory will be up.
Stay tuned as we are about to announce our narrowest ultra-narrow capability yet. Come to Photonics West Feb 5th thru the 7th at booth #4482 to learn more. A sneak peak of a two-cavity 532 nm CWL, 0.25 nm FWHM ultra-narrow bandpass filter is below. Transmission scans at the center and four quadrants of this 50 mm diameter part show less than 0.01% CWL variation over the clear aperture.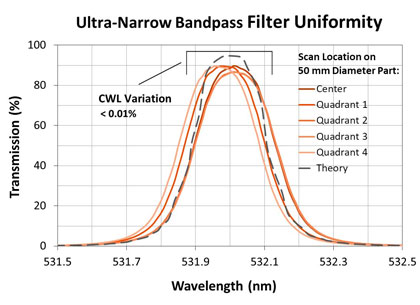 Our annual Photonics West party featuring our Alluxa Pinot Noir and other fine Sonoma county wines is open to all, and will be the night of Tuesday, February 5th. A drawing will be held during the party where we will give away one free coating run. You can register for the party and your chance to win below. Space may be limited this year due to demand.
Register to attend Alluxa's 2019 Photonics West Reception and your chance to win one free coating run.
And again, for those interested in Lidar and its many applications, mark the date and come to our invited talk, "Recent Advances in Thin-Film Filters for Lidar Applications", at the 62nd Annual SVC Technical Conference, April 27 – May 2, 2019 in Long Beach, CA. The talk will be given by our Director of Technology, Rance Fortenberry, at 4:00 pm on Monday, April 29th, at the Long Beach Convention Center, room 104C.
Mike